Mike O'Cull, staff writer for the Illinois Entertainer, IllinoisBlues.com and ChicagoMusicGuide.com writes:
"The Jennifer Jennings Band is as good or better than anything coming out of Nashville."
Terrence Flamm of The Illinois Entertainer reviews:
"The spirited country rock on The Jennifer Jennings Band's debut, All The Pieces, gets a boost from the lead singer's ability to create funny lyrics that ring true. "Not That Way" depicts an addiction to one-night stands, and on "Family Reunion," a gal dumps her beau for his unruly brother. The irresistible love song "I've Got A Feeling" is a genuine contender to top the country charts."
"Empty Need" chosen for the "Women in Music Compilation CD" compilation CD which has 16 unsigned talented female singer/songwriters (picked out of over 250 submissions).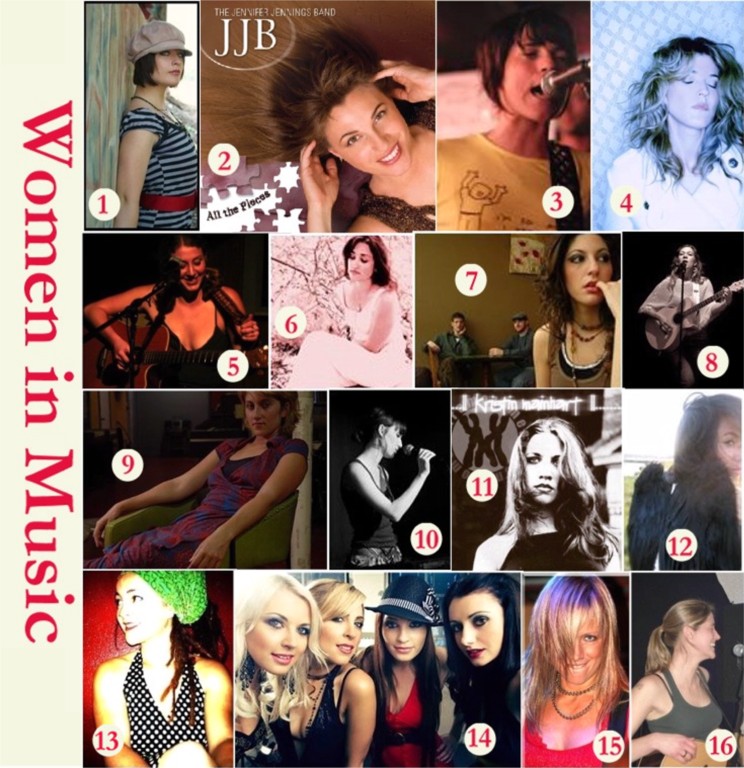 Rock Forge Arts - Read the review of Jennifer's music, who was February's featured artist, where they write:

"...Fortunately enough the internet uncovered this Chicago talent for us and we could not have enjoyed the find more. The real shocker was the music. It was fresh, crisp, and clear. Grounded by a lost four on the floor band sound that only emerges in clubs now days and lead by a strong guitar with hypnotizing hooks. It has a genuine listening pleasure with incredible lyrics and a sound we have trouble classifying because it is so original....Rarely does a musical artist arrive on the scene with a sound so original that could be considered timeless. With how rapidly the market travels, bands come and go only to grab a few loyal fans to honor them for years to come. After listening to just two recordings, we were hooked. Jennings is here to stay...Jennings' Twenty Houses combines fantastic melodies and harmonies with a flawless soulful accompaniment. It exceeded our expectations..."

Lorelei Music Magazine - spotlights women in music. A subscription to the magazine includes a compilation CD featuring internationally known female singer/songwriters. They chose to include on their first release Jennifer Jennings song "Isn't It Funny" The following review appears in Lorelei Music Magazine:
jennifer
jennings

email: jennifer@thejenniferjenningsband.com
Web page: www.thejenniferjenningsband.com

Lorelei Music Magazine

Rock and Roll certainly isn't dead. In a wake of grunge, hip-hop, and endless sub-genres of alternative rock, Jennifer Jennings carves out her niche by bringing back that four-on-the floor rock that is sadly missing in recent years. Jennifer's new release, Twenty Houses, is an album that offers a true alternative: A fully produced wall of sound. Terrific melodies and harmonies. Big guitar-driven accompaniment. You won't find any spare, jumbled mixes with wispy, off-key lead vocals here. On the contrary, Jennifer has a phenomenal voice, harkening back to the great female rock artists of the 60's and 70's. She has a clear, rich, alto voice of uncommon quality - versatile enough to be equally at home singing a driving rock tune as well as a soulful ballad.

Don't think that Jennifer is a retro rocker, dragging tired classic rock back from the grave - that couldn't be further from the truth. Jennifer is definitely an artist of today, skillfully blending many influences into a tight, focused, cohesive sound with great rhythm and energy. She brings a modern sensibility to production as well. Her arrangements and instrumentation are deep, not nearly as spare as most contemporary alternative rock.

Jennifer's songwriting is an example of what all songwriters should aspire to, regardless of genre. She blends intelligent lyrics and exceptional melodies into memorable and radio-ready hooks; the kind that play in your head days after you've heard them. On the whole, Jennifer Jennings's Twenty Houses is a fresh, welcome approach to modern rock and a great addition to any collection.

- Jennifer's song "Answers" won the Easy Listening competition at Compo10.com
Review - Read a great review on the Go Girls Music Website where Megan McGehee writes:
"...upbeat percussion and entrapping electric guitar licks accompany a sure, gutsy voice that might have headed for Opry Land in Nashville but took a detour through late 60's San Francisco before landing in make-your-own-sound modern Illinois. Along the way, Jennifer Jennings picked up a feel for performing her own lead and backing vocals that sound at times, amazingly, like offerings from two distinctly different and talented singers....Jennings's voice fittingly breaks out of any cages for the remainder of the recording, approaching the edges of raw emotion in a frayed-edged but solidly founded blues-rock intonation....She writes metaphor and imagery filled songs of love and heartbreak, joy and loss, and performs all with the infectious sincerity of one who truly believes in her voice."
Review - Read a great review on "WCAZ 2000 Internet Radio" where John M. O'Connor writes:
"...I love this CD and give it an enthusiastic rating of 4.5 stars (out of 5 max)."
Review - Read a review on the Flick Music web site where they mention:
"Jennifer has created her own unique spectacular sound ...if she keeps putting out songs like this, and delivering a great sound on and off the stage, she will be signed in a flash." They also rated Jen's vocals a perfect 4.0 out of 4.0!!
Review - Read a review at Amazon.com where Bill McNair writes:
"...there is always hope when you discover an artist like Jennifer Jennings. Jennifer has an absolutely wonderful alto voice that can belt out the big rock songs and even do the more soulful blues songs. It also seems versatile enough to be at home in small clubs or even in large arenas. She has everything you want in a female vocalist..." He rated Jennifer's "Twenty Houses" CD 5 stars!
Review - Read a review at Listen.com where they write:
"...rock with a big heart. Sultry guitar twang and a well-rehearsed rhythm section back her rich alto."
Review - Read a review at Musical Dicoveries Album Reviews where they write:
"...We were particularly impressed with the vocal production of the album and use of original instruments including steel drums ("Love Changes Everything"), harmonica and sitar. Jen's vocals are mixed way up and layering, when used, is very effective in producing lovely harmonies to support individual tracks' melodies. While most of the album's tracks rock to a significant extent, the album also features one slower, equally enticing and evocative track entitled "Last Dance." With more of an edge than Lobelia's album reviewed above, this alternative rock album moves right along and with highly accessible rock tunes should delight the broadest of audiences."
Awards - Jennifer Jennings was one of the winners at the annual Winterbreak Games Music Alive Contest held at The Park West Theater on Feb. 13th (sponsored by The City of Chicago). Her "Twenty Houses" CD was picked over 40 other entries by 101.9 The Mix radio station which sponsored her in this contest. Because she was one of the winners, The Jennifer Jennings Band was invited to perform at The Taste of Chicago at Grant Park on July 2nd on The Taste Stage.
Review - Read a review of Jennifer's performance in The Columbia Chronicle, which is an award-winning college newspaper written and distributed by students at Columbia College in Chicago, where Erin Bonillo's writes:
"Jennifer Jennings received a standing ovation after her riveting performance…"
Online Interview - Jennifer Jennings is one of the Spotlighted artists at Rockband.com where they have an interview with her and give a lot of her biographical information.
Review - Read a review on the Mood Swings web site where they mention :
"Jennifer has created an enjoyable album that I've played quite a few times when I've been looking for a change from the usual rock fodder that frequents my CD player."
Review - Read a review on the Strutterzine website where they call Jennifer's "Twenty Houses" CD:
"...very catchy and addictive."
| | |
| --- | --- |
| | Steve Dahl, the well-known Chicago radio personality, broadcaster and musician, likes Jennifer's "Twenty Houses" CD. |